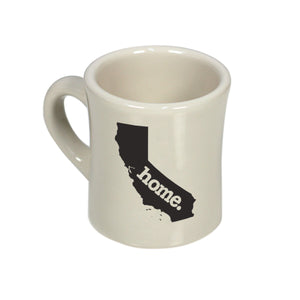 Diner Mug
Stoneware Diner mug
Microwave safe
Classic diner shape
10 oz capacity
MSRP $12.95-$14.95
A classic mug for any 'home.'! This stoneware Diner mug is the same style as you would find in your favorite greasy spoon restaurant! The distinctive thick curved sides and small handle of this mug is reminiscent of those used in diners far and wide.
The 10 ounce size allows for refills of your favorite coffee to go along with that plate of eggs and hash browns, for a real diner experience that you can enjoy any time, day or night. We make these mugs with high-fire ceramic decals and fire them in our kiln at 1500 degrees.

**PLEASE NOTE: Currently we are only producing wholesale. Currently, minimum order quantity for each product is 8.**
The "home." logo is a Trademark of FF HSA, LLC. All Rights Reserved.